The demand for flexible, modular systems is shaping the world of systems engineering as we know it. A major development in this regard is the decentralization of system components. In this BLOG article you will learn how this development affects power supplies and what possible solutions are available.
By speeding up the system planning process, simplifying maintenance tasks, and facilitating straightforward expansions, more and more components now feature a degree of protection from IP54 to IP67 and are being relocated directly into the field. As a result, cabinets can be made smaller than ever or else dispensed with entirely.
So what exactly is going on with the power supply in decentralized systems and machine engineering? The products currently available on the market basically allow three different strategies:
No decentralization of the power supply
The power supply is not included in the decentralization process and remains in the central cabinets. When it comes to supplying the decentralized peripheral devices in the field, long cable harnesses with a large cross-section have to be taken into account. The power supply has to be oversized due to the loss of performance caused by the long cables.
Power supply in a decentralized on-site cabinet
The power supply – along with other standard components such as electronic fuses or switches – is taken out of the central cabinet and placed directly onto the machine in smaller, decentralized IP67 cabinets. Companies often handle the planning and assembly of these cabinets themselves.
Customer-specific solution
A customer-specific, decentralized solution is developed especially for the power supply. The size and mechanics are also specifically tailored to the system along with the electrical specifications.
Benefits of a decentralized power supply
Many users have already sprung into action after recognizing the benefits of a decentralized power supply: it starts with the system planning process, which offers greater freedom. There are many applications, such as conveyor belts or production lines that can be supplied with energy much more efficiently and flexibly on a decentralized basis. The power supply no longer has to be oversized, and the individual system parts can be put together on a modular basis, allowing them to be extended, maintained, and converted more quickly and effectively than ever.
By making the cabinets smaller, or even doing away with them entirely, the newly gained space can also be used to expand added-value system components. Even the cable lengths and cross-sections can be reduced, which in turn saves on the costs of copper.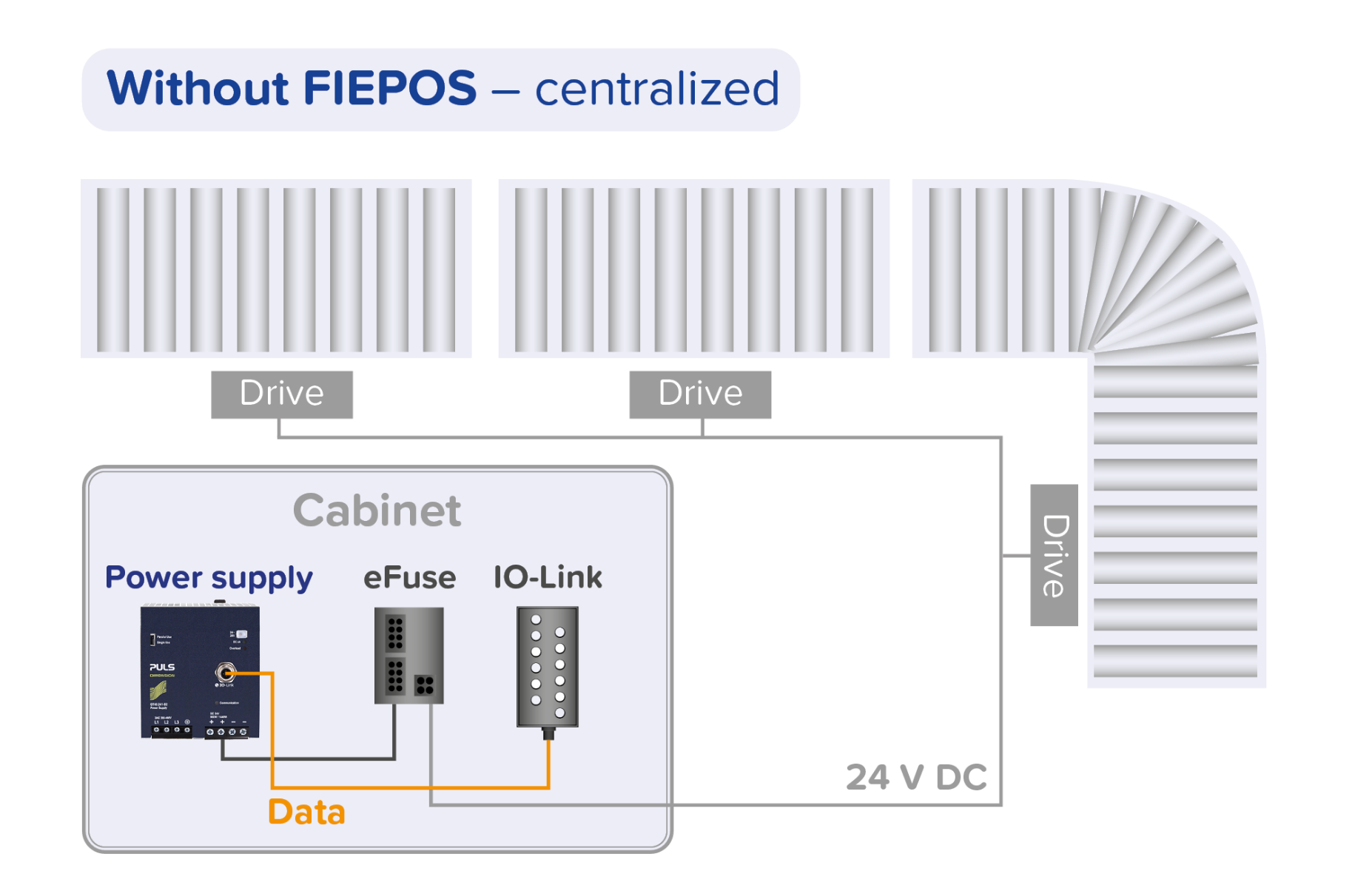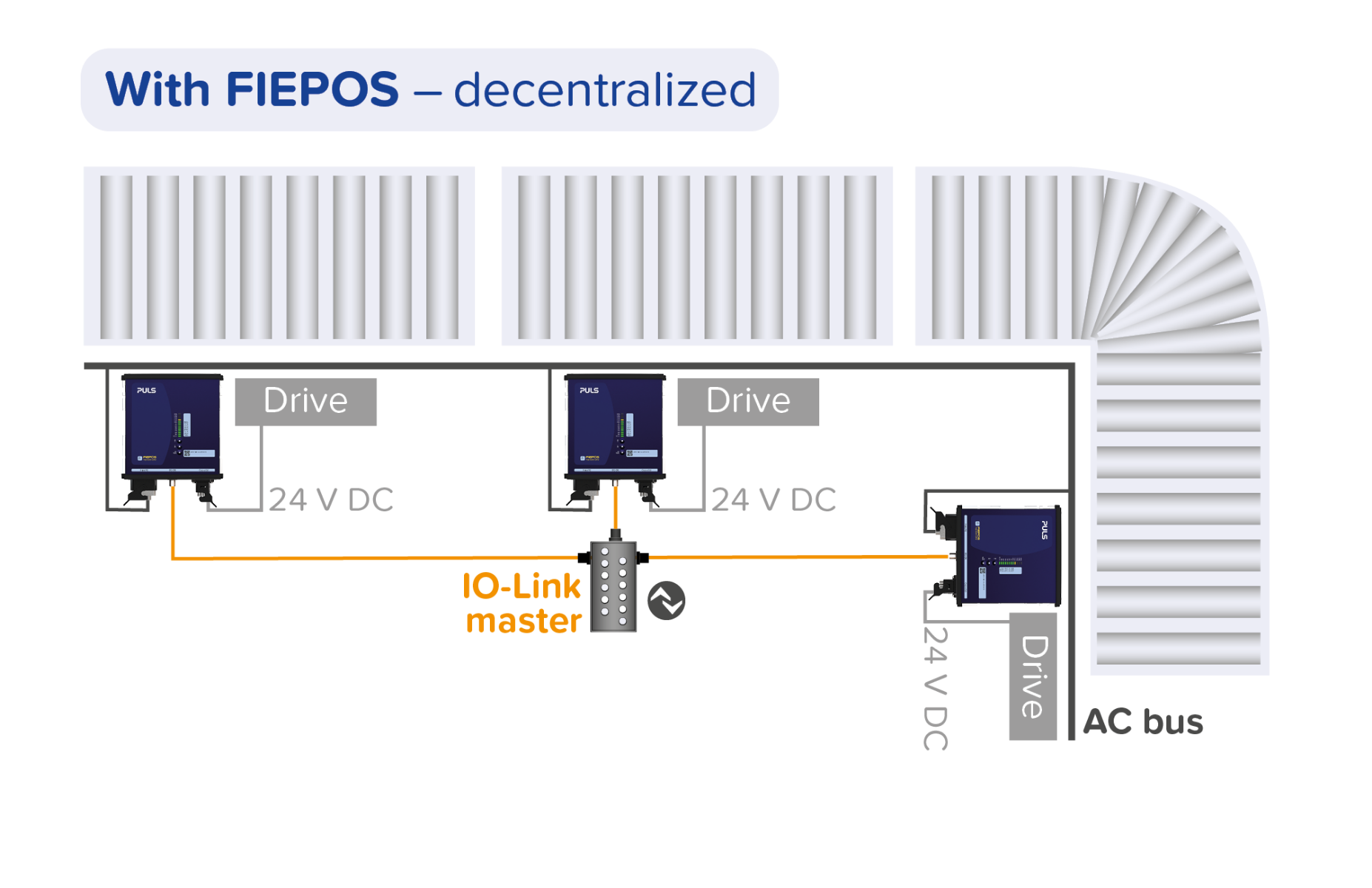 Past obstacles on the road to a decentralized power supply
The cost of implementing a decentralized power supply does, however, remain high with the currently existing solutions. Even straightforward, decentralized on-site cabinets, for example, often comprise more than 10 components. All of these have to be ordered, stored, and ultimately combined into a system by a technician.
As for developing customer-specific solutions, this is even more time consuming, expensive, and only worthwhile in large volumes. Until now, there hasn't been a decentralized standard power supply that is available to order ex stock, easy to install, and flexible enough to offer a viable alternative in all three cases.
Cabinet-free power supply system as a solution
With the launch of the FIEPOS product family , the developers at PULS are closing this gap in the decentralization market to open up whole new worlds of possibilities for users with reference to cabinet-free planning of their systems and machines.
The range is based on 1-phase and 3-phase IP54–IP67 power supplies with 300 W or 500 W output power. It also features an IO-Link or output OK signal as a communication interface. The various versions are based on this platform with numerous connector configurations as well as optional safety and redundancy functions. PULS classifies the devices into the two FIEPOS product series of Basic and eFused.
The devices in the Basic series have a single output, for which the various plug connectors such as M12-L/-T/-A, 7/8", or the HAN Q series are available. The FIEPOS eFused series comes complete with up to four internally protected outputs. Thanks to the built-in current limitation, these devices can easily be used for selective current distribution and protection. The outputs are configured and monitored via IO-Link or via the practical human-machine interface located directly on the front panel of the device.