DIN rail power supplies DC 24V 20A
Learn more about PULS' high performance power supplies with a DC 24V output voltage, 20A output current and DIN rail mounting for 1-phase systems.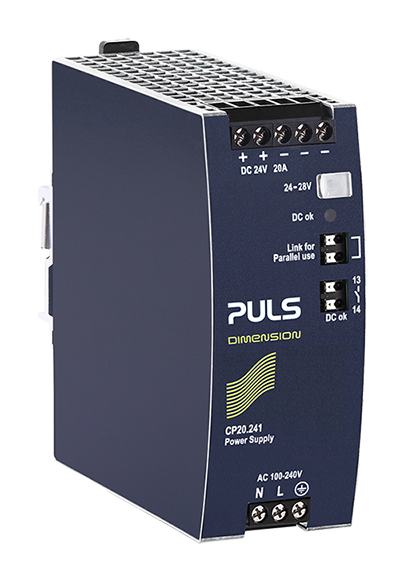 480W DIN rail power supplies
PULS offers efficient solutions for all users requiring powerful yet space-saving 480W (24V / 20A) DIN rail power supplies for their systems.
Easy operation
Installing PULS 480W DIN rail power supplies is easy and can be carried out quickly. The devices are simply mounted to a standard DIN rail.
The wiring to the mains and load is also an easy task. Connector options such as spring clamps or push-in terminals allow the 480W power supplies to be installed without additional tools within seconds. Of course, the classic screw connectors are available as well. The DIN rail power supply is then immediately ready for operation.
Convection cooling
All standard PULS DIN rail power supplies are completely convection-cooled. This means, the electronics are cooled by a natural air stream, without any use of fans. This method has a positive effect on the reliability of the 24V 20A power supplies. With every mechanical component, such as a fan, the probability of failure and thus the maintenance requirements increases.

Highest efficiency
PULS' 24V 20A power supplies achieve efficiency values of up to 95.6% (CP20.241). This means less power losses and less heat inside the system. High efficiency levels across the entire load range mean lower energy costs for the user in the usage phase.

Longest lifetime
The 480W power supplies also stand out from the competition when it comes to service lifetime. The units work absolutely reliable for years even under extreme conditions of 230Vac, continuous full load and +40°C ambient temperature.

Space-saving
PULS designs the smallest 480W DIN rail power supplies worldwide. E.g. the CP20 has a width of only 48mm. Small dimensions help you to set up ultra-compact systems even in packed cabinets. The lightweight design reduces the stress on the DIN rail.
Product overview
The following product list shows an overview of our 24V 20A DIN rail power supply portfolio. You can browse through the product details online or download the data sheets for more technical and detailed product information.
DIN rail power supplies for 1-phase system
Compare
Article No.
DC output
Range
Power
Input
Dimensions


WxHxD (mm)

Special feature
24V
20A
24-28Vdc
480W
AC 200-240V
49
124
124
Conformally coated
1-phase IP54-67 power supply
Compare
Article No.
DC output
Range
Power
Input
Dimensions


WxHxD (mm)

Special feature
24V
12.5A
24-28Vdc
300W
AC 100-240V | DC 110-300V
182
183
59
Input: HanQ4/2 | Output: HanQ4/0
24V
12.5A
24-28Vdc
300W
AC 100-240V | DC 110-300V
181
183
59
IO-Link | Input: 7/8" - 3pin | Output: 1x 7/8" - 5pin
24V
12.5A
24-28Vdc
300W
AC 100-240V | DC 110-300V
181
183
59
IO-Link | Input: M12-S | Output: 2x M12-L
3-phase IP54-67 power supply
Compare
Article No.
DC output
Range
Power
Input
Dimensions


WxHxD (mm)

Special feature
24V
12.5A
24-24Vdc
300W
AC 380-480V
182
183
59
Input: HanQ4/2 | Output: HanQ4/0
24V
20.8A
24-28Vdc
500W
AC 380-480V
181
183
59
Input: HanQ4/2 | Output: HanQ2/0
24V
20.8A
24-28Vdc
500W
AC 380-480V
181
183
59
IO-Link | Input: M12-S | Output: 2x 7/8" 4pin
24V
20.8A
24-28Vdc
500W
AC 380-480V
181
183
59
IO-Link | Input: M12-S | Output: 2x M12-L
24V
20.8A
24-28Vdc
500W
AC 380-480V
181
183
59
Input: M12-S | Output: 2x M12-L
24V
20.8A
24-28Vdc
500W
AC 380-480V
181
183
59
IO-Link | Input: 7/8"d | Output: 1x M12-A; 2x 7/8" - 5pin