DIN rail power supply with IO-Link port
Real-time information on power, temperature and status data is supplied directly from your power supply via IO-Link.

The first DIN rail power supply


with an integrated IO-Link port
The power supply is placed at a central nodal point in the system. There is more than just current flowing. A power supply records a significant amount of real-time information that is of particular interest to the operating firm as well as the system manufacturer.
This data can help increase system availability and reduce maintenance and operating costs. This means the power supply has the potential – in parallel with its function as a converter – to also act as a sensor and therefore make a significant contribution to the Industrial Internet of Things (IIoT).
The DIMENSION QT40.241-B2 sees PULS bringing to market the first 3-phase DIN rail power supply (24 V / 40 A) that makes this system data available to users via an I/O port.
Trusted power supply technology


with new IO-Link feature
New networking function
IO-Link v1.1 (IEC 61131-9)
4-pole M12 plug connector
Transmission speed: COM 3
(< 230.4 kBaud)
Integrated non-volatile memory

Trusted converter function
3-phase | 960 W | 24 V, 40 A
95.3 % efficiency and 110 mm width
+ 50 % BonusPower for 5 s
100 A for 10 ms to trip circuit breakers
Active PFC (harmonic correction)
Full power between -25 °C and +60 °C
Learn more about the QT40.241-B2 in our product brochure.
Award-winning IO-Link device

– even before market launch
The Manufacturing Leadership Council of consulting firm Frost & Sullivan looks for innovations that contribute to digitalisation in the production industry.
With that in mind, PULS submitted the QT40.241-B2 to the panel in the first quarter of 2018. The panel members conducted intensive tests to examine the added value that the power supply offers production companies and were impressed by the user-oriented strategy of PULS.
The result was the QT40.241-B2 being awarded the respected Manufacturing Leadership Award even before its official market launch.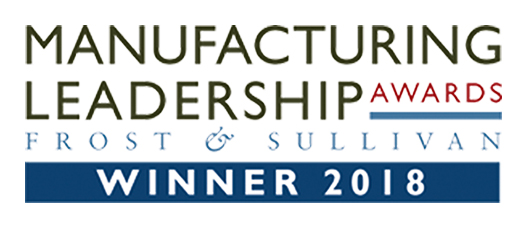 Valuable information


directly from your application
Acyclical parameters | ON DEMAND
The acyclical parameters include static and dynamic device information as well as input and output parameters that can be queried via the master at any time.

Device information (static)
Manufacturer name
Product name
Serial number
Hardware and firmware inspection status

Device information (dynamic)
Device runtime
Remaining lifetime in years
Temperature of the air flow

Input parameters
Transient counter
Input voltage

Output parameters
Output voltage
Load level in %
Cyclical parameters | PUSH
The output current is included in the cyclical process data and is communicated to the IO-Link master by the QT40.241-B2 every 2ms.

Output current (every 2ms)
Events can be warnings or error messages, such as an input voltage that is too low or too high, an overload or excessively high temperatures.

DC warning
BonusPower
Overload
Temperature too high
Input voltage too high
Input voltage too low
Power supply failure
Maintenance required
The user can set the output voltage of the QT40.241-B2 via the configuration software and switch the device on and off remotely.

Switch on power supply
Switch off power supply
Setting the output voltage
Advantages of IO-Link
as a communication protocol
Reliable
The component requirements for an IO-Link port in the power supply are relatively low when compared to more complex communication protocols. This offers several advantages: thanks to the low number of additional components, the MTBF value (Mean Time Between Failures) of the QT40.241-B2 remains constantly high. The MTBF stands at 678,000 hours and is indicative of the reliability and thus the fault tolerance of the device.
User-friendly
IO-Link was designed as a user-friendly plug-and-play solution. Installation and operation are easily and cost-effectively implemented. The port can be cabled using standard, unshielded IO cables. In addition, compatibility with all standard fieldbus and automation systems is provided, ensuring flexible usage options.
Safe
IO-Link is very robust and also offers a high level of safety. Industrial power supplies are often exposed to the harsh environments of the lower automation level and also need to be protected against external manipulation. Data transmission via IO-Link has been field-tested for these applications.
Integration of the QT40


into an existing IO-Link system
IO-Link was designed to retrieve the signals of the sensors and actuators (IO-Link devices) from the field level. Via an IO-Link master, these are fed into the respective fieldbus system and transmitted to the automation system.
The combination of fieldbus and IO-Link thus enables continuous communication across all levels. IO-Link is an open standard that is compatible with all common fieldbus and automation systems. This allows flexible use.
The integration of the QT40.241-B2 into an existing IO-Link system requires only a connection to the IO-Link master. For this purpose, standardized, unshielded IO cables are used. The installation and operation are thus uncomplicated and can be implemented cost-effectively.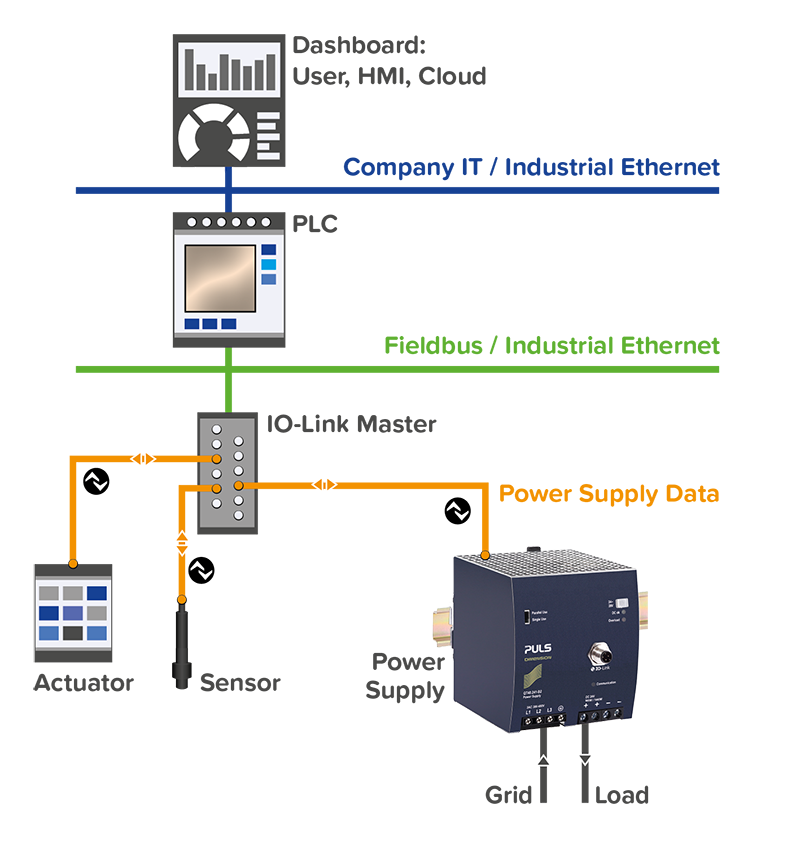 Save


time and costs
Demand-oriented, preventative maintenance
Automated parameterisation when replacing units
Avoid downtime
Improved system capacity utilisation
Improve


customer service
Rapid analysis and troubleshooting in the event of a fault
Quality analysis of the power grid
Facilitate


machine learning
Automatic detection of wear via digital load profiles
Avoid big data problems (incompatibility, inconsistency, etc.) with current as the data source
Contact PULS
for a personal consultation