Value-add system solutions
The benefits of standard power supplies meet customer-specific needs.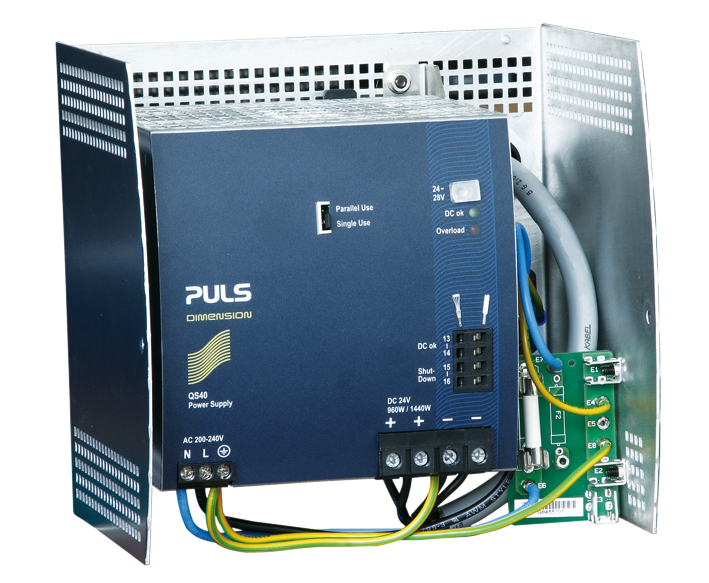 The alternative to customized power supplies
Rapidly available, cost-effective and without risk
PULS created the value-add platform to help you receive your customised power supply, quickly and cost-effectively. To accomplish this we modify our proven standard power supplies and combine them with customised modules from our subsidiary MGV, if necessary.
The value-add system has many advantages: Development time is significantly shorter than for strictly customer-specific power supplies. This reduces costs significantly. The value-add solution is also based on proven circuit designs that meet the highest technological standards. Additionally, you will also benefit from the renowned top-class quality of our standard power supply families.
Application requirements
When does a value-add solution make sense?
If your specification can not be cost-effectively accomplished exclusively with standard power supplies, it may make sense to think about a value-add solution if one more of the following factors apply to your application:

Technical parameters
Special voltage ranges
Very high peak load current
Buffering DC-UPS
Features for monitoring and regulation
Extra long lifetime

Application environment
Mechanical changes
Extreme ambient temperatures
High vibration and shock
Absolute reliability and system stability
Protection classes > IP20

Economic considerations
Save development costs
Minimise risk
Samples available quickly
Fast access times
Small quantity needed
Innovative modular systems
Which combinations can be implemented with value-add?
Our value-add systems are based on an 80-20 basis. This means that for the implementation of a value-add project, we use around 80 % original or modified standard units and just 20 % fully customised modules.
The following components can be combined in any way to build up an efficient value-add system.

Standard power supplies
Choose from the broad PULS product portfolio of more than 148 standard DIN rail power supplies.

Modified standard
Standard power supplies can be easily modified and made precisely for the requirements of your application.

Customer-specific modules
Customer-specific assemblies can be utilised to complement any missing functions in the value-add system, if necessary.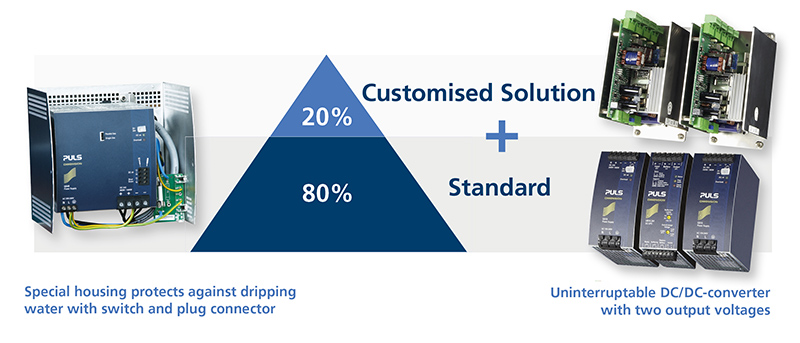 Satisfied customers
Examples of successful value-add system solutions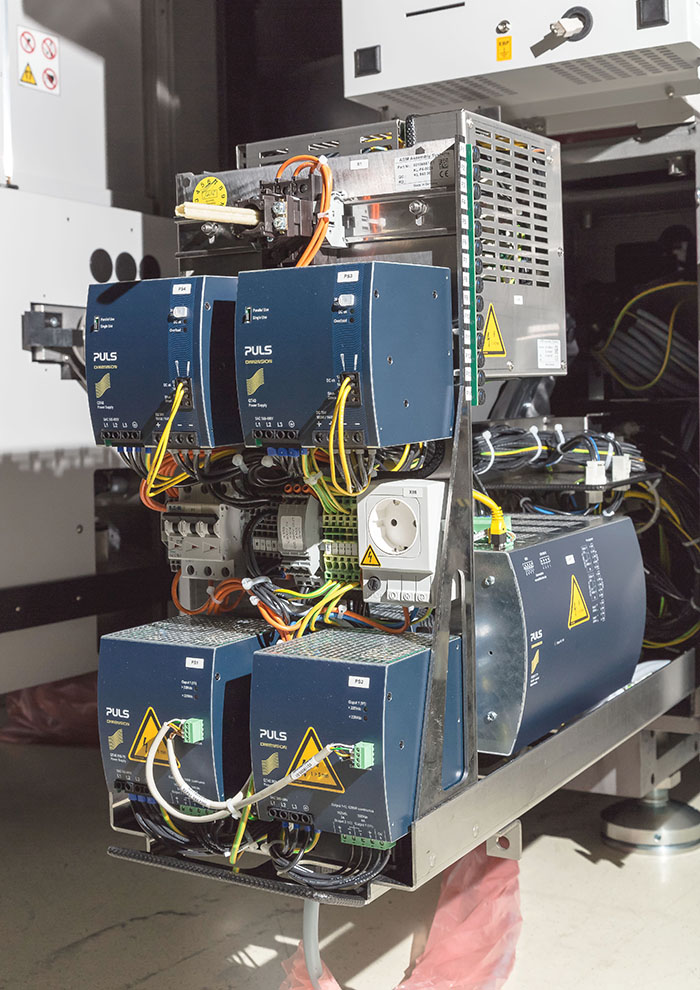 Complete power supply system for SMT placement machine
Challenge:
The placement machine can process up to 135,000 components per hour. The placement heads must be accelerated rapidly to enable this high speed of assembly. This leads to high peak loads of up to 30 kW.
Value-add solution:
The value-add system for this customer includes standard power supplies, modified power supplies and a customised buffer module. The system is optimised for powering dynamic loads and covers the high peak loads with the energy from the buffer module which avoids undesirable effects on the grid.
System components:
1 x standard
1 x standard
1 x standard
2 x modified
1 x maintenance-free buffer module with electrolytic capacitors
Modifications of QT40.241:
Input: 3 AC 400-480 V
Two output voltages: 162 Vdc and 300 Vdc
Power: 1,300 W
Modified communications interface for output of live data
Multi-layer printed circuit boards and smaller components
Additional fan to achieve an extremely long lifetime at + 60 °C ambient temperature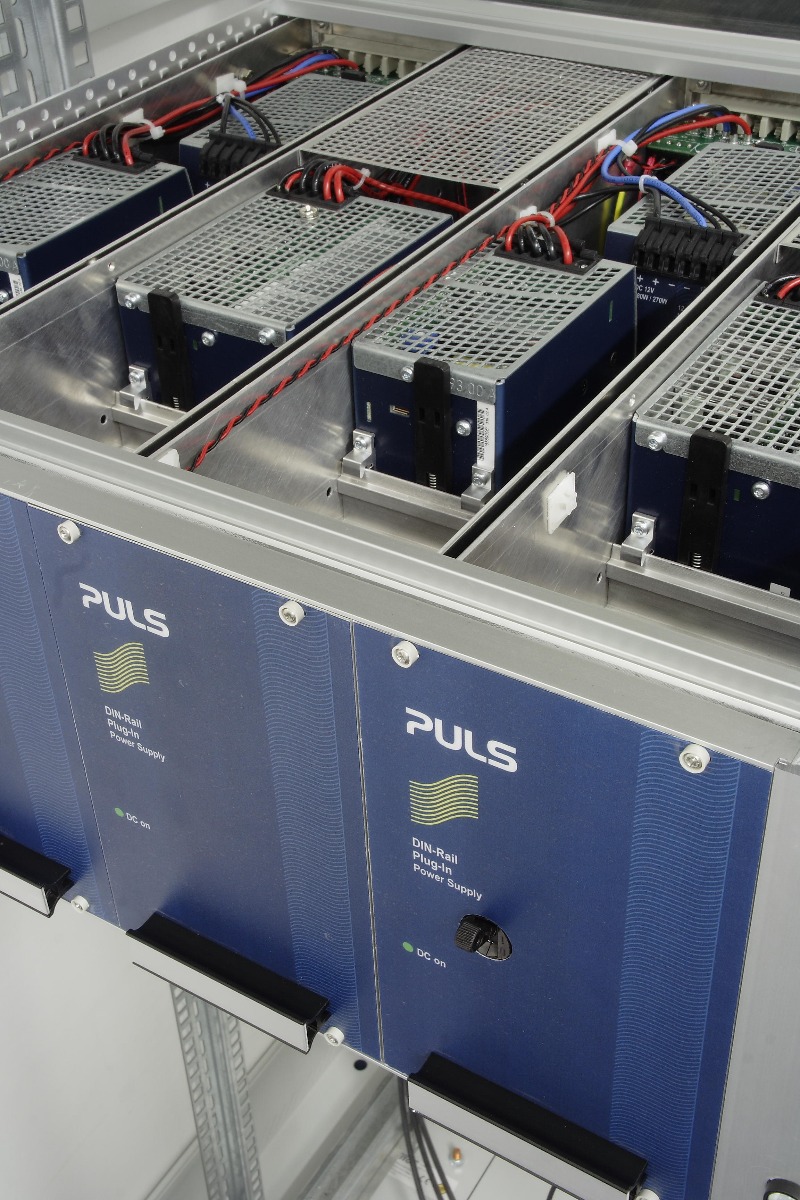 Complete power supply system for 19-inch racks
Challenge:
Typically 19-inch plug-in power supplies are used for this kind of application. The challenge was to find a cheaper and more efficient solution based on a standard DIN rail power supply, that worked exactly like a 19-inch system.
Value-add solution:
The 19-inch racks are equipped with three standard power supplies and a modified DC/DC converter. The system is actively cooled and can be complemented with a specially designed module for battery backup if necessary.
System components:
2x standard
1x standard
1x modified DC/DC converter
19-inch mechanism with backplane
Value-add details:
Input: AC 100-240 V, DC 24 or 48 V
Output: 24 V, 10 A, ±15 V, 12 A, 8 V, 25 A
Standard power supplies mounted in cassettes 4HE, 21TE for insertion in 19-inch racks
Cassettes are equipped with integrated fans for harsh operational conditions
Racks for integration of 4 cassettes with individual backplanes
Your value-add project
Get your personal support
Are you interested in the benefits of our value-add system? Or do you have further questions?