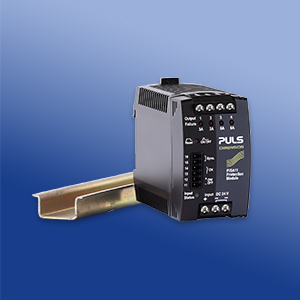 PISA11
The PISA11 series includes various cost-efficient electronic circuit breakers for DC 24 V systems.
All PISA11 devices provide one input and four current controlled output channels. The compact electronic circuit breakers ensure a sufficient supply voltage for critical loads even in the event of an fault. PISA11 also protects small cable sizes against overload.
PISA11 is also available as NEC Class 2 version. With this device you are able to install up to 4 NEC Class 2 circuits.
Electronic circuit breaker
Compare
Article No.
DC output
Input
Dimensions


WxHxD (mm)

Special feature
24 V
4 A
DC 18-30 V
45
75
91
4 output channels: 4x 1A
24 V
8 A
DC 18-30 V
45
75
91
4 output channels: 4x 2A
24 V
12 A
DC 18-30 V
45
75
91
4 output channels: 4x 3A
24 V
16 A
DC 18-30 V
45
75
91
4 output channels: 4x 4A
24 V
20 A
DC 18-30 V
45
75
91
4 output channels: 4x 6A
24 V
20 A
DC 18-30 V
45
75
91
4 output channels: 4x 10A
24 V
18 A
DC 18-30 V
45
75
91
4 output channels: 2x 3A and 2x 6A
24 V
20 A
DC 18-30 V
45
75
91
4 output channels: 2x 6A and 2x 12A
24 V
14.8 A
DC 18-30 V
45
75
91
4 output channels: 4x NEC Class 2 listed; 100VA per channel