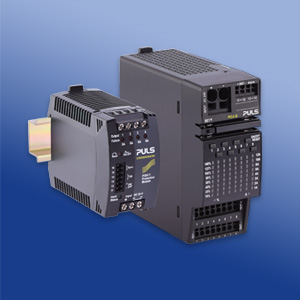 PISA
The PISA product family includes all electronic circuit breakers which are designed and manufactured by PULS.
The compact supplementary units distribute the current in an application, protect DC 24V load circuits from over-current or short-circuits and monitor the operating status in DC 24V systems. All devices can be mounted easily on a DIN rail.
PISA is the short form for Protect Inform Secure Assist, which shows the intended use of these devices.
Electronic circuit breaker
Compare
Article No.
DC output
Input
Dimensions


WxHxD (mm)

Special feature
30 A
DC 19.2-30 V
52
124
130
8 output channels: 8x NEC Class 2; 3.75A per channel; Common alarm signal
30 A
DC 19.2-30 V
52
124
130
8 output channels: 8x NEC Class 2; 3.75A per channel; Digital coded alarm signal
40 A
DC 19.2-30 V
52
124
130
8 output channels: 2x 1-12A, 6x 1-10A; Common alarm signal
40 A
DC 19.2-30 V
52
124
130
8 output channels: 2x 1-12A, 6x 1-10A; Digital coded alarm signal
24 V
4 A
DC 18-30 V
45
75
91
4 output channels: 4x 1A
24 V
8 A
DC 18-30 V
45
75
91
4 output channels: 4x 2A
24 V
12 A
DC 18-30 V
45
75
91
4 output channels: 4x 3A
24 V
16 A
DC 18-30 V
45
75
91
4 output channels: 4x 4A
24 V
20 A
DC 18-30 V
45
75
91
4 output channels: 4x 6A
24 V
20 A
DC 18-30 V
45
75
91
4 output channels: 4x 10A
24 V
18 A
DC 18-30 V
45
75
91
4 output channels: 2x 3A and 2x 6A
24 V
20 A
DC 18-30 V
45
75
91
4 output channels: 2x 6A and 2x 12A
24 V
14.8 A
DC 18-30 V
45
75
91
4 output channels: 4x NEC Class 2 listed; 100VA per channel
Electrical interconnection rail
Compare
Article No.
Product Description
Dimensions


WxHxD (mm)

Special feature
Electrical interconnection rail
102
11
3
set of 2 power-bus-bars for 2 modules | L = 102mm
Electrical interconnection rail
155
11
3
set of 2 power-bus-bars for 3 modules | L = 155mm
Electrical interconnection rail
500
11
3
single piece | L = 500mm