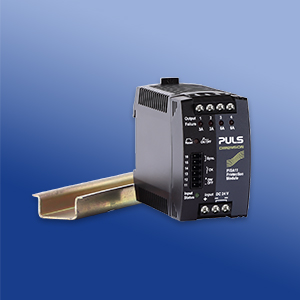 Protection modules
The innovative PISA protection modules with DIN rail mounting are designed for current distribution and protection of 24V load circuits.
The PISA protection modules distribute the current of large power sources to multiple lower current output channels and therefore allow for smaller wires to be used.
In the event of a fault, the protection module reliably switches off the channels and protects the loads.
Electronic circuit breaker
Compare
Article No.
DC Output
Input
Dimension


WxHxD (mm)

Special Feature
12A
DC 19.2-30V
52
124
130
8 channels; Outputs: 2x 1-12A, 6x 1-10A; Common alarm signal
12A
DC 19.2-30V
52
124
130
8 channels; Outputs: 2x 1-12A, 6x 1-10A; Digital coded alarm signal
3.8A
DC 19.2-30V
52
124
130
8 channels; Outputs: 8x NEC Class 2; 3.75A per channel; Common alarm signal
3.8A
DC 19.2-30V
52
124
130
8 channels; Outputs: 8x NEC Class 2; 3.75A per channel; Digital coded alarm signal
Protection module
Compare
Article No.
DC Output
Input
Dimension


WxHxD (mm)

Special Feature
24V
18A
DC 18-30V
45
75
91
4 channels; Outputs: 2x 3A and 2x 6A
24V
20A
DC 18-30V
45
75
91
4 channels; Outputs: 2x 6A and 2x 12A
24V
4A
DC 18-30V
45
75
91
4 channels; Outputs: 4x 1A
24V
8A
DC 18-30V
45
75
91
4 channels; Outputs: 4x 2A
24V
12A
DC 18-30V
45
75
91
4 channels; Outputs: 4x 3A
24V
16A
DC 18-30V
45
75
91
4 channels; Outputs: 4x 4A
24V
20A
DC 18-30V
45
75
91
4 channels; Outputs: 4x 6A
24V
20A
DC 18-30V
45
75
91
4 channels; Outputs: 4x 10A
24V
14.8A
DC 18-30V
45
75
91
4 channels; Outputs: 4x NEC Class 2 listed; 100VA per channel