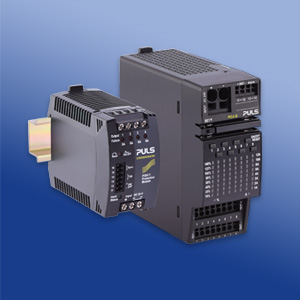 Electronic circuit breakers
The PISA multi-channel electronic circuit breakers with DIN rail mounting are designed for current distribution and protection of DC 24 V load circuits.
The PISA electronic circuit breakers distribute the current of large power sources to multiple lower current output channels and therefore allow for smaller wires to be used.
In the event of a fault, the electronic circuit breaker reliably switches off the channels and protects the loads.
Learn more about the new PISA-B series
Electronic circuit breaker
Compare
Article No.
DC output
Input
Dimensions


WxHxD (mm)

Special feature
30 A
DC 19.2-30 V
52
124
130
8 output channels: 8x NEC Class 2; 3.75A per channel; Common alarm signal
30 A
DC 19.2-30 V
52
124
130
8 output channels: 8x NEC Class 2; 3.75A per channel; Digital coded alarm signal
40 A
DC 19.2-30 V
52
124
130
8 output channels: 2x 1-12A, 6x 1-10A; Common alarm signal
40 A
DC 19.2-30 V
52
124
130
8 output channels: 2x 1-12A, 6x 1-10A; Digital coded alarm signal
24 V
4 A
DC 18-30 V
45
75
91
4 output channels: 4x 1A
24 V
8 A
DC 18-30 V
45
75
91
4 output channels: 4x 2A
24 V
12 A
DC 18-30 V
45
75
91
4 output channels: 4x 3A
24 V
16 A
DC 18-30 V
45
75
91
4 output channels: 4x 4A
24 V
20 A
DC 18-30 V
45
75
91
4 output channels: 4x 6A
24 V
20 A
DC 18-30 V
45
75
91
4 output channels: 4x 10A
24 V
18 A
DC 18-30 V
45
75
91
4 output channels: 2x 3A and 2x 6A
24 V
20 A
DC 18-30 V
45
75
91
4 output channels: 2x 6A and 2x 12A
24 V
14.8 A
DC 18-30 V
45
75
91
4 output channels: 4x NEC Class 2 listed; 100VA per channel
Electrical interconnection rail
Compare
Article No.
Product Description
Dimensions


WxHxD (mm)

Special feature
Electrical interconnection rail
102
11
3
set of 2 power-bus-bars for 2 modules | L = 102mm
Electrical interconnection rail
155
11
3
set of 2 power-bus-bars for 3 modules | L = 155mm
Electrical interconnection rail
500
11
3
single piece | L = 500mm