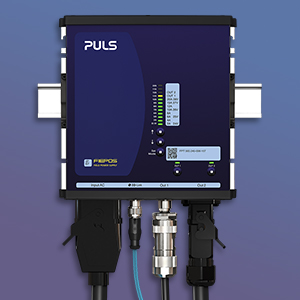 FIEPOS
The product family FIEPOS stands for decentralized field power supplies with protection classes IP54, IP65 or IP67.
The FIEPOS Basic series offers one DC output and is available with a power of 360 W or 600 W.
The FIEPOS eFused series features up to four current-limited DC outputs. These devices make it easy to implement selective power distribution, protection and monitoring directly in the field.
Learn more about FIEPOS Field power supplies .
1-phase IP54-67 power supply
Compare
Article No.
DC output
Range
Power
Input
Dimensions


WxHxD (mm)

Special feature
24 V
15 A
24-28 Vdc
360 W
AC 100-240 V | DC 110-300 V
182
183
59
Input: HanQ4/2 | Output: HanQ4/0
24 V
15 A
24-28 Vdc
360 W
AC 100-240 V | DC 110-300 V
181
183
59
IO-Link | Input: 7/8" - 3pin | Output: 1x 7/8" - 5pin
24 V
15 A
24-28 Vdc
360 W
AC 100-240 V | DC 110-300 V
181
183
59
IO-Link | Input: M12-S | Output: 2x M12-L
24 V
15 A
24-28 Vdc
360 W
AC 100-240 V | DC 110-300 V
181
183
59
IO-Link | Input: 7/8" 3 pin | Output: 2x 7/8" 4 pin
24 V
15 A
24-28 Vdc
360 W
AC 100-240 V | DC 110-300 V
181
183
59
Input 7/8" - 3pin | Output 2x 7/8" - 4pin
24 V
15 A
24-28 Vdc
360 W
AC 100-240 V | DC 110-300 V
181
183
59
Input: 7/8" 3pin | Output: 3x 7/8" 4pin
24 V
12.5 A
24-28 Vdc
360 W
AC 100-240 V | DC 110-300 V
181
183
59
IO-Link | Input: 7/8" 3pin | Output: 3 x 7/8" 4pin
24 V
15 A
24-28 Vdc
360 W
AC 100-240 V | DC 110-300 V
181
183
59
IO-Link | Input: 7/8" 3 pin | Output: 3x 7/8" 4 pin
1-phase IP54-67 power supply with highline input voltage
Compare
Article No.
DC output
Range
Power
Input
Dimensions


WxHxD (mm)

Special feature
24 V
25 A
24-28 Vdc
600 W
AC 200-240 V | DC 200-300 V
181
183
59
Input: 7/8" 3pin | Ouput: 2x 7/8" 4pin
3-phase IP54-67 power supply
Compare
Article No.
DC output
Range
Power
Input
Dimensions


WxHxD (mm)

Special feature
24 V
15 A
24-24 Vdc
360 W
AC 380-480 V
182
183
59
Input: HanQ4/2 | Output: HanQ4/0
24 V
25 A
24-28 Vdc
600 W
AC 380-480 V
181
183
59
Input: Han Q4/2 | Output: Han Q4/0
24 V
25 A
24-28 Vdc
600 W
AC 380-480 V
181
183
59
Input: HanQ4/2 | Output: HanQ4/0
24 V
25 A
24-28 Vdc
600 W
AC 380-480 V
181
183
59
Input: HanQ4/2 | Output: ASi Cable
24 V
25 A
24-28 Vdc
600 W
AC 380-480 V
181
183
59
Input: HanQ4/2 | Output: HanQ2/0
24 V
25 A
24-28 Vdc
600 W
AC 380-480 V
181
183
59
IO-Link | Input: M12-S | Output: 2x 7/8" 4pin
24 V
25 A
24-28 Vdc
600 W
AC 380-480 V
181
183
59
IO-Link | Input: M12-S | Output: 2x M12-L
24 V
25 A
24-28 Vdc
600 W
AC 380-480 V
181
183
59
Input: M12-S | Output: 2x M12-L
24 V
25 A
24-28 Vdc
600 W
AC 380-480 V
181
183
59
IO-Link; Input: M12-S | Output: 2x 7/8" 5pin
24 V
25 A
24-28 Vdc
600 W
AC 380-480 V
181
183
59
IO-Link | Input: 7/8"d | Output: 1x M12-A; 2x 7/8" - 5pin