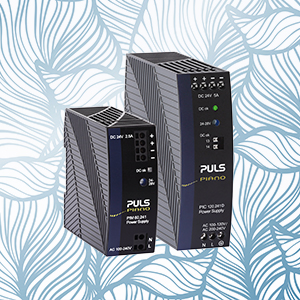 PIANO
The focus of PIANO DIN rail power supplies is on the PULS core features: High efficiency and reliability, long lifetime and compact size.
More expensive additional features, such as power reserves, were deliberately omitted. This allows a cost-oriented design without compromising on quality. PIANO power supplies are perfectly suited for a wide variety of applications.
PULS provides a complete family with power classes from 36W up to 480W.
Learn more about the benefits of PIANO power supplies .
DIN rail power supplies for 1-phase system
Compare
Article No.
DC output
Range
Power
Input
Dimensions


WxHxD (mm)

Special feature
24 V
5 A
24-28 Vdc
120 W
AC 200-240 V
39
124
124
DC-OK relay contact
24 V
5 A
24-28 Vdc
120 W
AC 100-120 V AC 200-240 V
39
124
124
DC-OK relay contact
24 V
5 A
24-28 Vdc
120 W
AC 200-240 V
39
124
124
24 V
10 A
24-28 Vdc
240 W
AC 200-240 V
49
124
124
DC-OK relay contact
24 V
10 A
24-28 Vdc
240 W
AC 100-240 V
49
124
124
DC-OK relay contact
24 V
20 A
24-28 Vdc
480 W
AC 200-240 V
49
124
124
DC-OK relay contact
24 V
20 A
24-28 Vdc
480 W
AC 200-240 V
49
124
124
Conformally coated
24 V
20 A
24-28 Vdc
480 W
AC 100-240 V
59
124
127
DC-OK relay contact
48 V
10 A
48-56 Vdc
480 W
AC 100-240 V
59
124
127
DC-OK relay contact
24 V
1.5 A
24-28 Vdc
36 W
AC 100-240 V
22.5
90
91
push-in terminals
12 V
5 A
12-15 Vdc
60 W
AC 100-240 V
36
90
91
push-in terminals
12 V
5 A
12-15 Vdc
60 W
AC 100-240 V
36
90
91
screw terminals, NEC Class 2
24 V
2.5 A
24-28 Vdc
60 W
AC 100-240 V
36
90
91
push-in terminals
24 V
2.5 A
24-28 Vdc
60 W
AC 100-240 V
36
90
91
NEC Class 2
24 V
3.8 A
24-28 Vdc
90 W
AC 100-240 V
36
90
91
push-in terminals
24 V
3.8 A
24-28 Vdc
90 W
AC 100-240 V
36
90
91
screw terminals
24 V
3.8 A
24-28 Vdc
90 W
AC 100-240 V
36
90
91
screw terminals, NEC Class 2
Diode redundancy module
Compare
Article No.
DC output
Input
Dimensions


WxHxD (mm)

Special feature
12-24 V
20 A
DC 12-28 V (± 25 %)
39
124
124
2x 10A; DC-OK relay contact