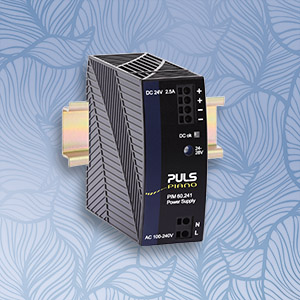 PIANO PIM series
The compact PIANO Mini (PIM) power supplies are available with 36W, 60W or 90W. These power supplies create more space in your systems or machines and allow you a flexible planning. Furthermore you can choose between push-in and screw terminals for the PIM60 (60W) and PIM90 (90W).
The most important characteristic of all PIANO devices is their focus on the core features of a power supply: efficiency, lifetime, reliability and size.
Learn more about the benefits of PIANO PIM series .
DIN rail power supplies for 1-phase system
Compare
Article No.
DC output
Range
Power
Input
Dimensions


WxHxD (mm)

Special feature
24V
1.5A
24-28Vdc
36W
AC 100-240V
22.5
90
91
push-in terminals
12V
5A
12-15Vdc
60W
AC 100-240V
36
90
91
push-in terminals
12V
5A
12-15Vdc
60W
AC 100-240V
36
90
91
large screw terminals
24V
2.5A
24-28Vdc
60W
AC 100-240V
36
90
91
push-in terminals
24V
2.5A
24-28Vdc
60W
AC 100-240V
36
90
91
NEC Class 2
24V
3.8A
24-28Vdc
90W
AC 100-240V
36
90
91
push-in terminals
24V
3.8A
24-28Vdc
90W
AC 100-240V
36
90
91
large screw terminals
24V
3.8A
24-28Vdc
90W
AC 100-240V
36
90
91
screw terminals